The Art of Pairing Greek Wine and Cuisine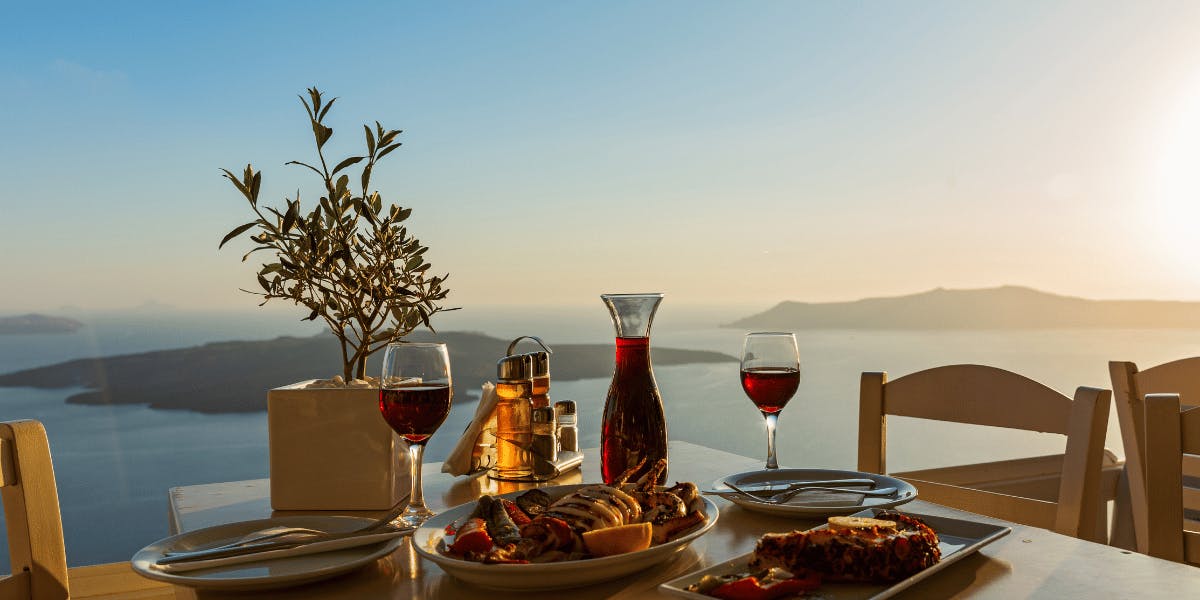 The Greek culinary scene is renowned for its healthy Mediterranean diet, replete with sun-ripened produce, fresh seafood, and succulent meats. But what truly brings out the flavors of Greek cuisine is the perfect accompaniment - a glass of Greek wine. Here's a guide to artfully pairing Greek wine with some of the country's traditional dishes.
Greek Whites: The Perfect Companion for Seafood and Vegetables
Greek white wines are varied and versatile, characterized by their fresh and crisp flavor profiles. One such white grape varietal is Assyrtiko, native to the volcanic island of Santorini. With its high acidity and mineral tones, Assyrtiko pairs beautifully with Greece's bountiful seafood dishes. Try it with "garides saganaki" (shrimp baked with tomato and feta), where it complements the dish's richness while cutting through the acidity of the tomatoes.
For vegetarian dishes, Moschofilero, a highly aromatic white wine from the Peloponnese region, is an excellent choice. Its floral notes and lively acidity perfectly complement dishes like the classic Greek salad or dolmades (stuffed grape leaves).
Robust Reds for Hearty Meats
When it comes to Greek red wines, Agiorgitiko and Xinomavro stand out. Agiorgitiko, hailing from Nemea, is known for its soft tannins and flavors of red fruits. It pairs well with lamb dishes, a staple of Greek cuisine. A dish like "arni sto fourno" (oven-roasted lamb with potatoes) will be accentuated by Agiorgitiko's fruit-forward profile and mild spiciness.
On the other hand, Xinomavro, often compared to Italy's Nebbiolo, is a more tannic and robust red wine. It's an excellent match for beef "stifado," a hearty stew made with slow-cooked beef, pearl onions, and a rich tomato sauce. Xinomavro's strong tannic structure and acidity can stand up to the bold flavors of the stew.
Greek Rosé and Mezze Delights
Rosé wine has seen a global resurgence in recent years, and Greece is no exception. The Greek rosés, such as those made from Xinomavro, are dry and full-bodied. They pair wonderfully with "mezze," a selection of small dishes served as appetizers. Try pairing a Greek rosé with "taramasalata" (a creamy fish roe dip) or "spanakopita" (spinach and feta pie), and let the wine's fruitiness balance the saltiness of these appetizers.
Sweet Wine for a Sweet Ending
No Greek meal is complete without a dessert, and what better way to enjoy it than with a traditional Greek dessert wine? Commandaria, a sweet wine from Cyprus, often considered the oldest wine still in production, is perfect. Its rich, honeyed sweetness makes it a splendid companion for Greek desserts like "baklava" (phyllo pastry filled with nuts and syrup) or "galaktoboureko" (custard pie in phyllo).
In conclusion, the world of Greek wine is diverse and delectable, reflecting the country's varied terroirs and centuries-old winemaking traditions. And when paired with Greece's vibrant cuisine, it creates a symphony of flavors, turning every meal into a celebration. Whether you're dining by the Aegean Sea or in your own home, raise a glass of Greek wine, savor a bite of Greek cuisine, and "Yamas!" - here's to your health!